Hearthstone log and timber home company delivers and manages 15 unique timber species that are used in custom log and timber frame homes and light commercial projects. The species of wood in order of volume includes White Pine, Douglas Fir, White Oak, Spruce, Western Hemlock, Cypress, Eastern Red Cedar, Western Red Cedar, Yellow Pine, Pressure Treated White Pine, Red Oak, Glulam (yellow pine and Fir), Antique Oak, and Ipe decking. How these specifications get into the project is anybody's guess. Some are written specs by the architect and others are driven by consumer or project managers. Gone are the days of managing primarily White Pine or mixed Oak from our own 40 foot sawmill. Adding to this fun is the HeartDried option, where our vacuum kilns dry most species very well to the core. And the finished dimension is nominal and not to the 1/2".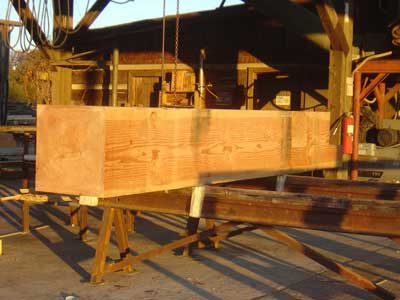 Once the raw material is dried and sized, the joinery tolerances with our Cad/Cam equipment are designed within 1/64". Gone are the days of dovetail jigs and chainsaw tolerances of 1/4". It's actually easier and more efficient to tighten these tolerances with our computer machinery, just as long as the raw material initial sizing doesn't change after the 60+ hours of CAD modeling is complete.
We still finish the surfaces by hand with hewing, chopping, brushing or Weather Aged finishes. And each of these textures take stain colors differently. So, sample pieces are often provided for the customer to make decisions on wood stain colors, number of coats, top coats, etc. In most cases, these stain samples are provided prior to shipping. For those clients who need more time to decide, the drop shipping option to jobsites or the GC's office by Perma-Chink Systems has worked great.
It was a lot easier just 20 years ago managing two species and 6 colors. But we as an industry have never embraced "easy".
Chris Wood, VP Sales
www.hearthstonehomes.com