Perma-Chink Systems' (PCS) future-oriented, sustainable products take all environmental, ecological and social acceptability issues into consideration. We are constantly looking ahead to the future to develop products for the construction of energy-efficient log and timber homes while applying an environmental mindset that products be free of toxins and have a long life to reduce the number of life-time applications.
This holistic approach by Perma-Chink Systems is not limited simply to issues such as sustainable products, but also takes into consideration the aspect of healthy living by bringing the human aspect into the development process. Our environmental focus is reflected throughout the life cycle of our products, starting with Green Chemistry, then Green Manufacturing and finally Green Application and Care.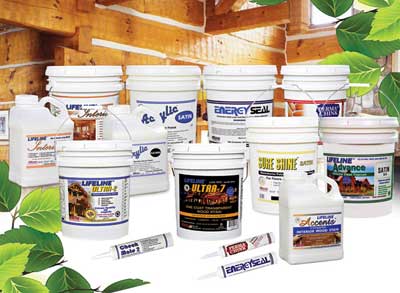 Green chemistry can be defined as the design, development, and implementation of chemical products and processes to reduce or eliminate the use and generation of hazardous substances and their negative impacts on the environment. The development of a Green finish starts with the selection of the raw materials necessary to formulate a product with the physical properties required to protect a substrate (i.e. wood, metal) from environmental and self-degradation. These raw materials include the resin, surfactants, solvents, biocides, pigments, fillers, colorants and UV-inhibitors.
Our Chemists spend countless hours of research to ensure our products are constructed to be environmentally-friendly not only in terms of toxicity but also in terms of longevity. Longevity, or shelf life, is the length of time that a commodity may be stored without becoming unfit for use. The shelf life of our products is an equally important environmental factor in order to reduce the potential impact of undesired disposal that could result from a short shelf life.
Perma-Chink Systems is proud to introduce our environmentally improved product line with a THREE YEAR shelf life.
The environmental approach by Perma-Chink Systems is Making a Difference Around the World.