My name is Mike Samuels. I am a Log Home owner and recently started working for Perma-Chink Systems. So let me tell you how my story begins. We are going back to my childhood. My parents vacationed in Smoky Mountains once or twice a year. As a child I was very impressible and excited any time I was able to go on vacation. The trip always included a drive through the mountains, sightseeing around Cades Cove and driving up the most treacherous Ski Mountain Road.
On every visit to the Smoky Mountains, I remember making comments to my mother that one day when I grow up, I would have a log home or mountain chalet here. I made a lot of wishes to my mother growing up just as any kid does. I am sure that my mother listened to my comments in one ear and out the other. She was always very encouraging. I also remember that I told her I would be an US Air Force fighter pilot. Not everything comes true, but there is nothing wrong with dreaming.
I worked for one company for 38 years, mostly living in Houston, TX but my wife, Kathy, children and I lived in Tennessee for a total of 10 of the 38 years. Unfortunately the Tennessee years were located in the middle and west Tennessee, never East Tennessee. However, many of our family vacations were still in Smokies. My children were overwhelmed with the breathtaking views of the mountains as much as I was as a child.
Fast forward 40 years. Where did the time go? It was finally time to think about retirement and where my wife and I would spend the remainder of our lives. The decision was not as easy as one would think. The first place many people want to retire is the beach. That was our first idea, but Kathy and I looked at each other and simultaneously we said, How about Smokies, and How about a Log Home?
Kathy immediately logged on to the Internet and starting looking at land for sale. I can tell you that once my wife has a mission, she reacts quickly and thoroughly. Within minutes she found several pieces of property for sell. Of course, this would mean another vacation to Smoky Mountains to look and buy land. She planned out a trip, contacted a Real Estate company and put everything in motion.
We picked out approximately 10 properties to look at. Our real estate agent met us at the hotel around 8am on a Saturday. An early start was essential in order to look at all of the properties in a couple of days. It was rainy and cold. I believe the trip was in March, the best I can remember. We made it to all of the properties on Saturday… a very long Saturday. Kathy and I were a little car sick from the winding mountains roads and disappointed, because none of the properties made any significant impact on us.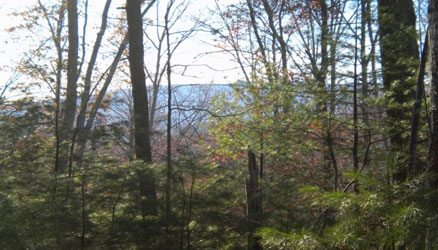 A Great View of the Smokey Mountains
Early on Sunday morning the rain had stopped so my wife and I decided to go out and search on our own for the perfect piece of land. What a difference does good weather makes. Kathy and I parked the car and started walking. We made it about half way up the property and were able to see nothing but trees and hillsides all around. We envisioned how a house would sit on the hillside. We walked up to the top of the hillside and there was this great view of mountain tops. At that time, we knew this was the right property to build our log dream home and spend the rest of our lives here. We made an offer, countered and purchased the same day on a Sunday.
As I mentioned earlier, Kathy is not one to sit back and wait for things to happen. She now has the land. It was time to start planning next steps. We both were still several years away from retirement but that did not stop us. She continued to plan. She contacted what seemed to be 100 manufactures, builders, and purchased tons of Log Home magazines and publications. Being a good husband, I sat back and allowed her to make floor plan decisions and building styles. I knew that my goal in life was to keep her happy. The design of the house was not my main concern. I like spending time outdoors, so as long as I had a place to eat and sleep I would be happy. We lived in five different homes but never one that would take on this feat. Most of our home purchases were buying new and vacant so we could move right in.