Meanwhile, while Kathy was doing all of the Log Home research, we decided to get started on all the work it takes before you start to build. After Kathy compiled all of the Log home information, we could see our vision beginning to be a reality. First, we decided to have the land re-surveyed. A small price to pay for the comfort you got what you paid for. We were still six to eight years away from retirement and building. Our goal was to build and have the home complete about one year before our retirement. We wanted to work to age 58 before retiring and moving to the mountains.
Kathy and I vacationed about every six to eight weeks. All vacations now were, not to beaches or cruises, but to our piece of land heaven in the Smoky Mountains. After our first visit in the fall, our land was so overgrown we could not even walk on it. Vacationing to our future home was the worst thing we did, because at that time we decided to begin doing some excavation work. Living far away from your land is really a detriment. The key is finding good contractors, which is very difficult even without the distance between Houston, TX and Smoky Mountain Tennessee. In the case of identifying good contractors, "The more the Better".
Our surveyor gave us a name of a contractor who could excavate. We call the excavator out along with about three other contractors to discuss options. We did end up with the contractor our surveyor recommended. Instead of only clearing land, we installed the septic tank, laid out the driveway, cleared about one acre of land and set the home site. Keep in mind that Kathy was still working on log home designs and floor plans, not to mention taking me many miles around the region to see and talk to log home manufacturers and look at model homes.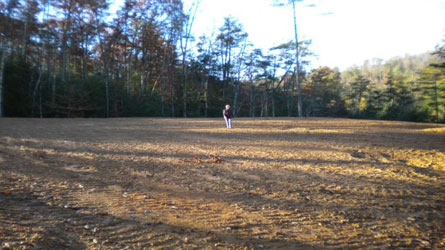 Our next vacation visit to the land was to see the outcome of the excavator's work. The land looked fantastic. No longer did we need to walk up the hill and fight our ways through the heavy brush. We drove our car up the driveway and parked where one day the house would be. These vacations to the land made us want to build and move sooner than we planned. And we did.
After meeting and talking with several contractors we decided to go with someone who had extensive Log Home experience and managed a Log Home Resort complex. He was going to be our eyes on the ground. My wife actually took the role of general contractor. She did an amazing job. She ordered the Log home package, had it delivered and the log home manufacture completed the dry-in. A lot of work had to take place prior to the package being delivered. We decided to build the home into the hillside and build a basement garage under the home. Our excavator and surveyor had more work to do. Get the retaining walls, garage and basement ready prior to the delivery of the log home package. Our surveyor read the plans to install supports for the balcony and decks.
I wanted to get the home stained as soon as the dry-in was completed. Applicators in the area had many recommendations on which log home stain to use. Again, my wife and I did research on wood stains. After reading propaganda from websites we decided on Perma-Chink Systems products. Our decision was based primarily on a water-based product, especially when we saw the warranty available for Lifeline Ultra stains. Perma-Chink Systems was the only company that guaranteed their stain with a 5-year warranty if properly applied. Fortunately my eye on the ground in Smokies was also a Perma-Chink Systems distributor. I let my wife pick out the color. After 30+ years of marriage, I finally learned my lesson, "Keep a Wife Happy".
Perma-Chink Systems delivers an excellent product, good warranty and ease of cleanup. All attributes of a good log home stain. Since Perma-Chink Systems has a family of products we felt that their overall systems were a good match for protection and longevity. We chose Dark Natural color in the Lifeline Ultra-2 line. We started with the Shell-Guard borate treatment, Log Wash wood cleaner, Lifeline stain and Advance gloss top coat. The house looked great.
One month after I turned 55 years old, we retired and now living in our new Log Home. Looking back on all of the hard work, frustrations, time spent, and even the occasional husband and wife arguments, we finally made it. It has been great living in a Log Home. What makes it better, is that my daughter purchased a log home about 10 miles from us on the lake. It is nice having family with you during your golden years. By the way, I stripped and stained her home using Perma-Chink Systems products as well.
I have learned so much about log home maintenance and care for a Log Home. So much, that when I visited our local PCS store to get Log Wash, I also got a job. I am one of the newest employees here and I am still learning how to maintain our home.
My biggest lesson for anyone wanting to build a log home is planning, from start to finish. Attend as many log home seminars that you can. Perma-Chink offers excellent seminars for the do-it-yourself home owners. Take advantage of the Perma-Chink Systems experts and utilize their personnel to get valuable advice. Call or visit any of the locations to get personalized service. Call me at the Perma-Chink Systems in Sevierville, TN. I will be happy to share my experiences and will guide you for a long and happy life in your Log Home.