Professional Chink Machine
Used by commercial applicators, chink pumps are easily wheeled around the perimeter of a home while gable ends, intricate corners and covered entrance ways remain accessible with its 25-foot applicator reinforced hose.
Now the Kodiak M2 chink pump raises the bar with greater capacity, durability and even easier clean-up.
The standard motor drives the chinking through the hose which is applied with the ease of the on/off switch near the nozzle. Internal working mechanisms are easy to clean with water.
The Kodiak M2 chink pump combines the best features and gives the chink pump variable speed control and high pressure.
Sizes & Prices
$4,970.65
Call to Order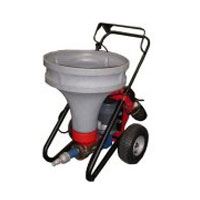 Features
Collapsible Handle
High Capacity
Lightweight
No Belts or Clutches
Variable Speed
Remote Control
Rotor/Stator Pump
Easy Clean Up
Sealants Application Guide
Reviews

D Holgren in TN (04/20/2013) – "This is the chink pump I use and anyone who is looking at doing a lot of chinking should use this one also! This chink pump works great and is easy to transport around the job site.
---