Why Is Deck Defense Better Than Other Deck Stains
Deck Defense deck stain is engineered for better performance, longer life, and easy application. We started by removing the oils and hazardous driers to produce an environmentally-friendlier product. Although it is a totally waterborne product, it has penetrating properties like oil stains. Unlike oil, Deck Defense hardens into a lattice, supporting and strengthening the natural cellulosic fibers to protect from the inside out, not just on the surface.
Additionally, powerful additives to Deck Defense inhibit the growth of mold, mildew, and algae within the cured film. We also have incorporated a bit of wax to help repel surface water. Homeowners can feel secure in the knowledge that their investment is protected from the damaging effects of wind, sun, and water.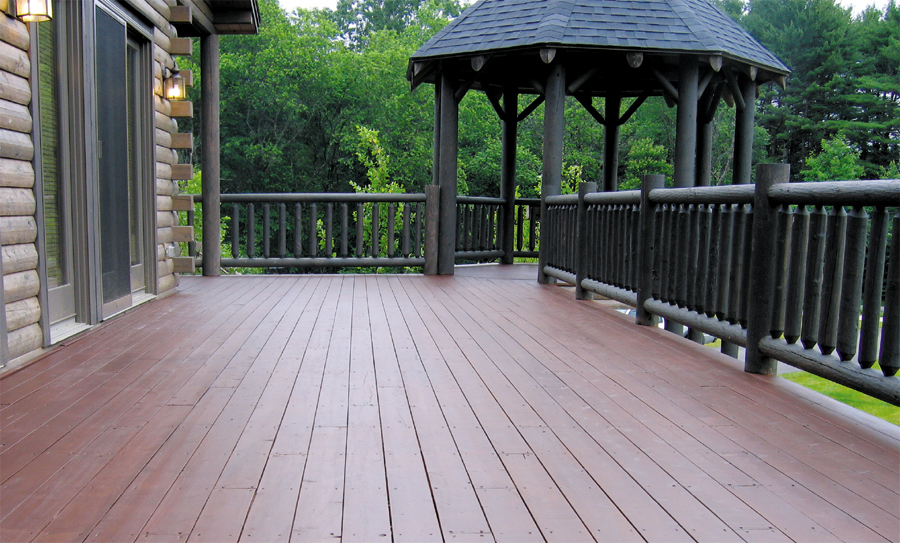 Easy Application With Deck Defense
Deck Defense is easily applied to dry surfaces with a pump-up sprayer, roller, brushes, pads, or an airless sprayer. Designed for a one coat application, an additional coat may be applied using a "wet on wet" method in order to achieve a deeper and richer color. Wet product should be back-brushed to eliminate any splotchy areas, reduce the chances of lap marks, and eliminate pooling of product.
Normal maintenance has also been made easier as there will be no need to strip off the product prior to re-application, as it will not flake or peel when properly applied. Just clean the surface to remove any dirt or dried materials, and allow drying before applying your maintenance coat. Clean up with soap and water before the product dries on application equipment.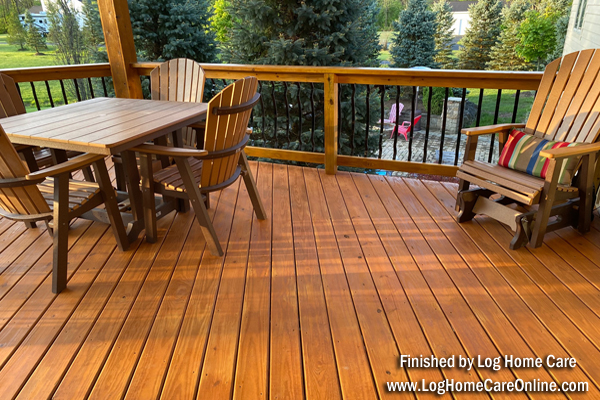 Deck Defense Colors
Deck Defense is available in seven colors to match our most popular colors, but we've now added the ability to order custom colors! If you have a particular color in mind for your deck, contact your local Perma-Chink Systems store to discuss our custom color options.
Choose Deck Defense for your home's deck, railings, and fencing and receive these benefits:
Excellent weather resistance
Excellent color retention
Allows texture and grain to show through
Low odor and VOC
Contains Trans-Oxide pigments for enhanced UV protection
Easy application
Easy soap and water clean-up
Coverage rate: 175-250 sq. ft. per gallon, depending on substrate condition and application methods
See label directions for additional information
Deck Defense FAQs
Click the question to see the answer.