With this environment, how is one to care for their outdoor wood? For starters, properly prepping the surface, applying the correct finish, and maintaining it with regular cleaning will protect your outdoor wood.
Surface Preparation
The start of all great projects begin with prep work. Painting a car is "easy" - it's the hours repairing dents, removing rust, filling holes, lining body parts up right that take all the effort. If you are fortunate enough to work with fresh wood, there is less work than if you had wood stained from years ago, or have a fence covered in moss and mildew.
With your outdoor wood, if it is new wood, prep the wood by cleaning it with Log Wash, removing any mold or mildew, dirt, stains, or marks. Older wood that has a finish may require stripping the old finish first. This provides the best surface for finish adhesion. We have in-depth articles on cleaning log homes, which share a similar process with fencing, handrails, and decks. If you are working with Cedar, Walnut or Mahogany, we recommend cleaning with Cedar Wash.
Apply Finish
Applying our Deck Defense is a simple process once the prep work is complete. Starting with a clean and dry surface, begin to apply Deck Defense. It can be applied by many different methods from brush to sprayer, and we recommend back-brushing to ensure full coverage. There is no need to apply a topcoat after applying Deck Defense or Log & Timber Defense.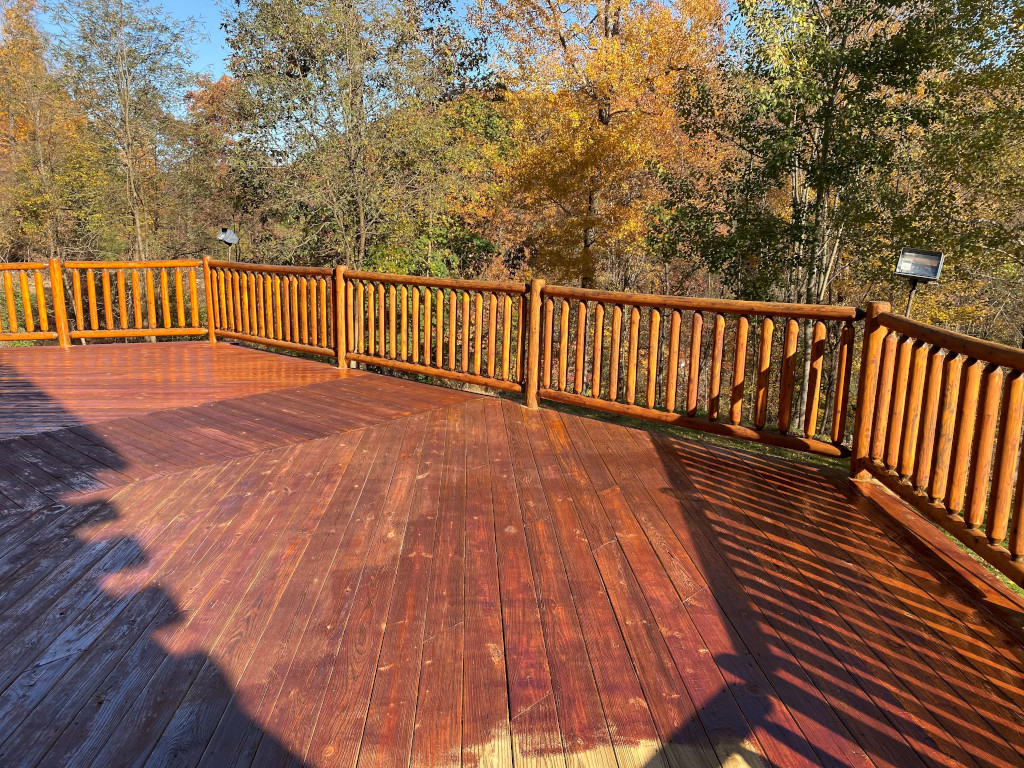 Maintenance
Depending on the level of environmental exposure and conditions, we recommend a yearly cleaning with Log Wash to help prolong the finish. In high-traffic areas, some wear might be visible and a quick light coat in that spot will help keep the color. Our Caring For Handrails article outlines the need for maintenance coats on the top rail.
If you have any questions regarding the care of your wood, please contact us at 800-548-3554, our Wood Care Experts are happy to help.