Finish Removal System
The Blaster-Buddy finish removing system is the easiest and safest method of removing old finishes from your log home. Your home will be clean, dry and ready to apply beautiful new coats of LifeLine stains and finishes.
The Blaster-Buddy system weighs approximately 450 pounds and is about four feet high. It comes with 50 feet of hose, a remote control unit, an instruction manual. When rented it comes with a safety kit that includes gloves, earplugs, dust masks and a face shield with headgear.
Environmentally Friendly
Dry Method - No Water Used
Product Guide
Sizes & Prices
$5,835.23
Call to Order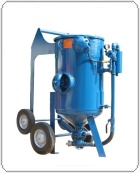 Reviews

W Jones, (05/09/2014) - "I wanted to thank you for referring me to a contractor who just finished stripping my home with your Buddy Blaster. Yes it was messy & no it's not the cheapest way to do it. But golly it was quick and did such a great job. My contractor started staining with your ultra 7 that same day. Wow it looks great."
---