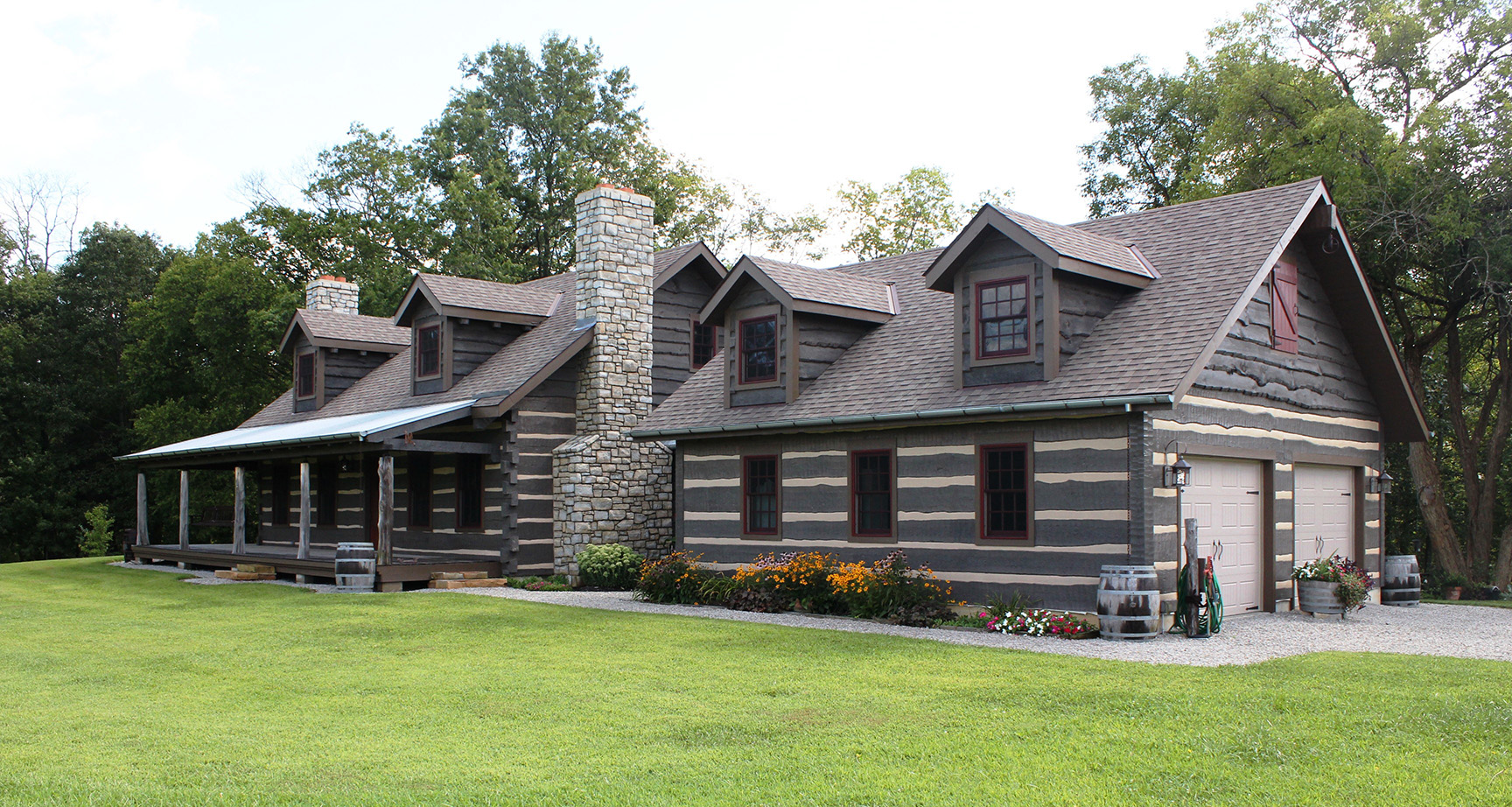 Stuart Baurichter left a pre-med career path to spend 30 years working as a self-employed home remodeler and met Judy over a shared interest in motorcycles. It soon became evident that her passion for log homes coupled with Stu's experience in the various trades were a perfect fit and they began planning to build on 11.5 quiet country acres, east of Cincinnati, Ohio.
Planning the Dream
Judy and Stu extensively researched log home manufacturers and settled on a Hearthstone log home. Chris Wood, VP Sales Hearthstone, Inc., describes their home: "Judy worked with our local Distributor to modify a standard Greenbriar floor plan that has a connector and garage, resulting in 1920 square feet of heated space plus an unfinished basement. A wrap-around porch was added with Eastern Red Cedar tree trunks used for porch posts. To get that 200-year-old "look", the logs selected were our Timberlake profile, 6" thick x 14" to 22" wide and tapered, with dovetail corners and chinking. Wavy-edged White Pine siding was used on the dormers and gable ends to complement the log style. The home delivered in the spring of 2009 and Hearthstone's package included our log installation and dry-in service."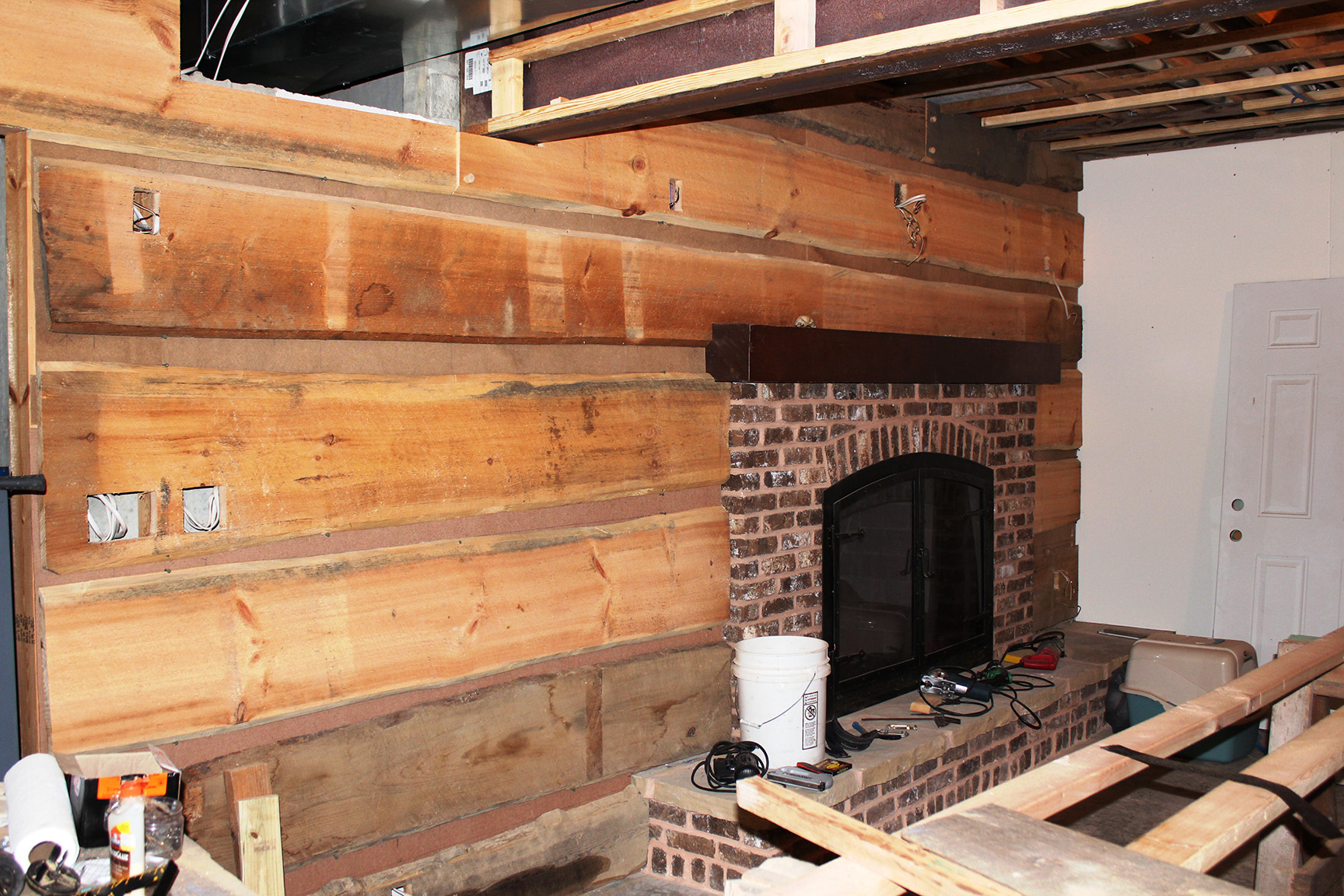 Stu adds, "Hearthstone was very responsive and supportive during the building process. The shell was erected by a 4 man crew in 10 days. What impressed me most was their service after the sale." Judy and Stu spent a total of 18 months working 7 days a week, most days 7am to 8pm, to complete their homestead. During this time they took off only two days "…for a wedding and a funeral."
Becoming Independent and Resourceful
Reminiscent of those values of independence and self-sufficiency, Judy and Stu remained determined to reuse, repurpose and adapt materials in the building of their log home and an Amish milled post-and-beam barn, fashioned primarily of recycled and repurposed materials. Windows were purchased from a local used building material store for $5 per pane, and nearly all the doors (23 in total) were reclaimed from one old log home they dismantled. Wood flooring was pulled up, the nails ground off, and reinstalled in their new home. Interior partition walls were finished with reclaimed weathered cedar fencing, installed over black painted plywood backing so that the walls remain finished looking regardless of the seasonal movement of individual boards.
Stu reports, "Auction websites were a real help. A bathtub, still in the box, had been returned due to a sizing issue. In a log home you simply design around what you find." Judy's artistic side is evident throughout the home: kitchen appliances remain fully functional while carefully hidden from sight and bathroom sinks are fashioned from repurposed jelly cooking pots. Even the light switch and outlet covers reflect the owners' resourcefulness: industrial steel plates were ordered directly from the manufacturer, treated to a solution of muriatic acid, and the resultant patina fits wonderfully into the home's interior.
Choosing the Right Materials & Right People
Judy chinked the entire home herself, both inside and out, and speaks favorably of her interaction with Perma-Chink. "We attended the Perma-Chink workshop and learned so much that we returned for a second session. This training coupled with the advice and encouragement of Bill and Kevin Huff, our Perma-Chink Distributors at Log Home Center and Supply, gave us the ability to tackle the chinking project with confidence. There was always someone to help anytime we had any questions." Judy and Stu also selected Perma-Chink stains and finishes to be used throughout the interior and exterior of the home.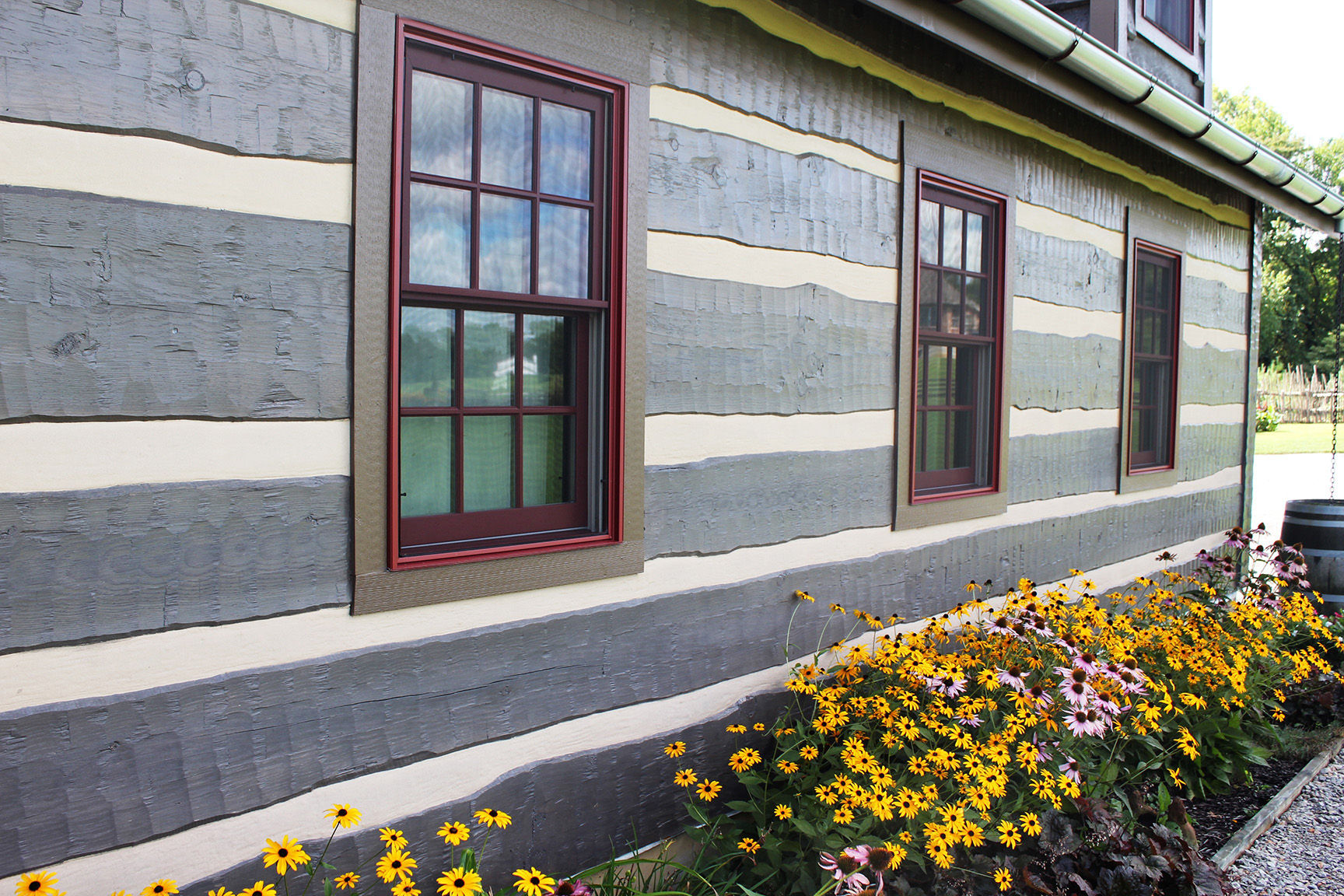 Wayne Bell of Log Home Care, an Ohio based log home refinishing, repair and restoration company reports that the finish is performing exactly as expected. "With minimal upkeep, which consists of regular cleaning with Perma-Chink Log Wash, this finish is easily maintained. As a preventative measure we've touched up the stain and topcoat in a few surfaces subjected to heavy weathering or UV radiation but overall this finish is as attractive and functional as the day it was initially applied."
What's next for Judy and Stu? They are currently finishing their 1200 sq. ft. basement and consistent with their philosophy, much of the building materials are repurposed. The home showcases Judy's collection of handcrafted baskets and serves as a gathering point for frequent bluegrass music gatherings.
Judy and Stu both agree that the process of building their own home has been fun, yet they warn that serving as General Contractor (as Stu did at a savings of $40,000) is not for the faint of heart. Nevertheless, they enthusiastically say they would do it all again.
Resources
Chris Wood
Timber Log Design, LLC
865-368-5165
www.timberlogdesign.com
Bill or Kevin Huff
Log Home Center and Supply
(800) 773-6223
Wayne Bell
Log Home Care
(800) 932-1275