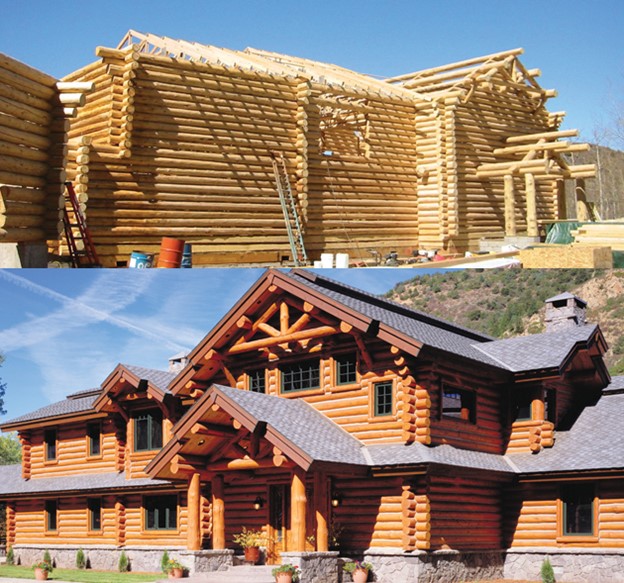 A Breathable Finish
First, our exterior film forming stains carry the Lifeline designation and are all breathable. Therefore, they allow water vapor to pass through while stopping liquid water from getting through. These types of finishes bond well to vertical wood surfaces but do not penetrate deeply into the wood. The protection is primarily on the surface. However, our Lifeline Ultra-7™, Lifeline Ultra-2™ and Lifeline Accents do contain special additives that help protect specifically the lignin in wood at the interface where the stain and wood meet one another.
Lignin acts as the structural framework for wood much like steel beams in commercial buildings. When lignin breaks down due to UV exposure, the interface between the coating and wood is compromised and delamination of the coating often results.
Lifeline Ultra-7
Lifeline Ultra 7 is our premier all-acrylic wood finish system containing special high-performance additives that reduce UV degradation and biological attack. It is designed for a one coat application however two coats can be applied to provide more protection and color uniformity.
Lifeline Ultra-2
Lifeline Ultra 2 is designed to be a two-coat application of finish. This finish system is very flexible, has inhibitors for ultraviolet light as well as biological growth, giving it an advanced level of protection.
Lifeline Accents
Lifeline Accents is designed to provide our customers with exciting colors and features and an affordable price point.
Lifeline Exterior
Finally, Lifeline Exterior, another two-coat system similar to Lifeline Ultra 2, is also very flexible, has additives designed to provide protection from UV and biological attack and is economical. All three of these wood finish systems have differing levels of protection designed to meet the needs of our customers.
Each of these finish systems should be sealed with our Lifeline Advance™ clear topcoat. This breathable topcoat helps keep the surface clean and relatively dry, reduces biological growth and helps reduce UV degradation which greatly extends the life of your finish system.
Our New Defensive Additions
Log and Timber Defense™ and Deck Defense™ are our two exterior penetrating products designed for both horizontal and vertical surfaces. These two wood finishes dive into the wood and seal the wood from the inside out. While reapplication of product may be necessary more often than our film forming stains, you don't have to worry about chipping and peeling of the coating with these products. Both products work best on unsealed surfaces allowing for better penetration of each product. Decks are often difficult due to the intense UV exposure and abrasion they receive over time. Protection of these surfaces with Deck Defense is a smart move. However, because these products penetrate, application of a topcoat such as Lifeline Advance or our wood primer Prelude is strongly discouraged.
The Right Choice
Each of our wood finishes helps meet specific needs of your home exterior. Whether it be function, longevity, ease of application, quality, fashion, performance, or economics - Perma-Chink Systems֯ has a wood finish solution suited just for your home.