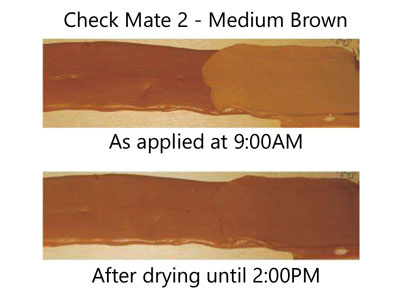 Although the Medium Brown looks fairly light when first applied, after five hours the color pretty well matches the color of Check Mate 2 Medium Brown that had been allowed to cure several days. This test was done inside at room temperature. Cold temperatures and humid conditions will obviously delay the drying process. But the important fact is that the color of Check Mate 2 will darken as it dries.
This darkening is not as apparent in the lighter color browns, and Clear Check Mate 2 comes out of the tube white. If you think you have received the wrong color of Check Mate 2, please spread a thin layer of it out on a piece of paper and let it dry overnight before deciding that it is truly the wrong color.
Like all of our sealants, the thicker Check Mate 2 is applied, the longer it takes to cure. Be sure to always use Backer Rod in checks in order to keep the Check Mate 2 the proper thickness of about 3/8 inch.