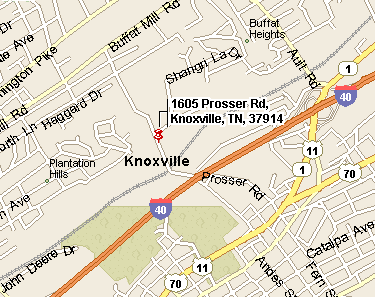 COMING 40-EAST BOUND:
Exit 392 Rutledge Pike Exit - at the end of ramp there will be a traffic light. Cross over intersection, you will be on (*Timothy Rd.,) at the end of *Timothy Rd. turn right. You will be on Prosser Rd. Cross over Railroad Tracks, you'll see Guard Shack and gates on the left. Turn left and come through the gates.
Our sales & training facility is just inside the front gate on your right.
COMING 40-WEST BOUND:
Take the 2nd Rutledge Pike Exit-392A. The ramp will exit you to the right (keep to right). Go to the traffic light and turn right on (*Timothy Rd.,) at this point follow the directions as indicated above.
NOTE: ( * ) indicating point from pick-up from above!