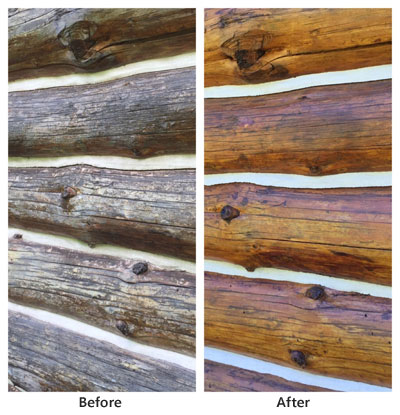 I am 110% impressed and satisfied with our experience using Permachink products while refinishing our log cabin in the Upper Peninsula of Michigan.
The cabin we inherited had not been maintained in over 30 years and the harsh winters had really taken a toll. During an 8 day summer "vacation", my husband and I alone were able to strip & sand the 3 bedroom cabin, apply Wood Renew, treat with borate, stain with Lifeline Ultra 7, seal with LifeLine Advance Gloss, and paint all of the chinking with Permachink's Chink Paint. I'm not going to lie.... it was a lot of very, very hard work and it took around 192 man-hours to complete (yes, in 8 days with two people), but we were able to do it ourselves exactly as planned. I'm a dentist and my husband works in IT, so it's not like we have a background in this kind of work! Even using these best of the best materials, we saved over $17,000 from the estimates to have it "professionally" done and dare I say I bet it turned out better.
We plan on using Permachink materials again next summer when we repair the checks and seals. I wish I could post more than one photo to show you what a husband and wife with no experience were able to do in 8 days. I can't speak highly enough of Permachink. Their products far exceeded my high expectations.
N. Adamson
GA