For contractors who have been applying sealants for years, the tools selected have been time tested. Contractors expanding work or new to the trade might want to know all the available options for the job. And since everyone has a different preference on tools, Perma-Chink Systems offers multiple products to get the job done.
1. The Albion Bulk Loading Caulking Gun
This is our most popular tool for applying Perma-Chink or Energy Seal. It is built to meet the demands of serious professionals, utilizing rugged, heavy-duty all steel drives and lightweight aluminum barrels to reliably dispense a wide range of materials.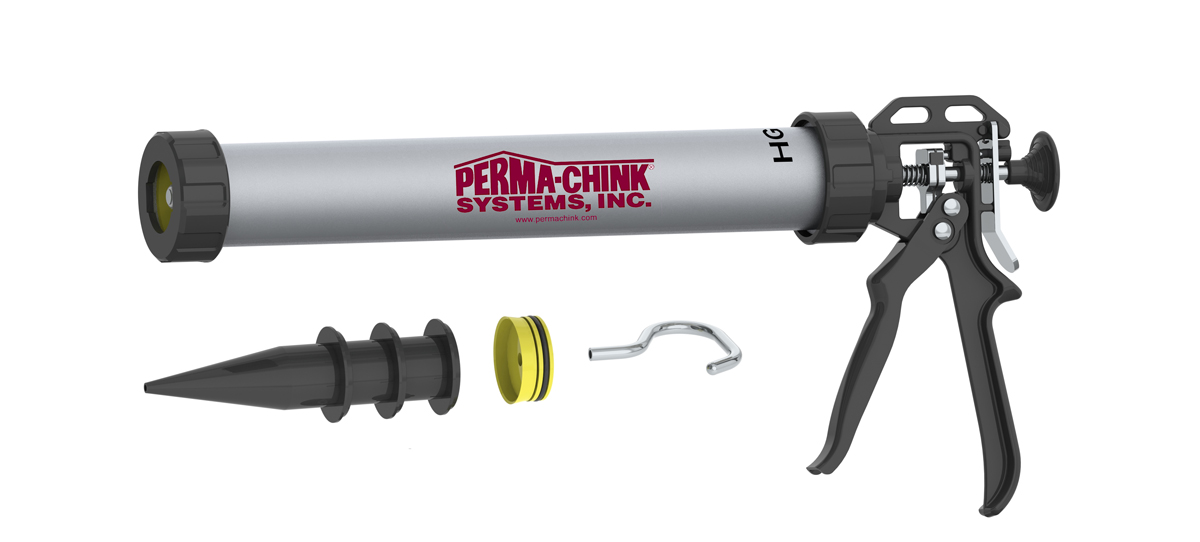 Available sizes 20oz. and 30oz.
Professional Quality
Efficient 12:1 Drive Ratio
Lightweight Aluminum Barrel
Double Grip Plates for Long Life
No Spanner Wrench Needed!
Barrel Rotates for no-stop application
Kit includes 3 nozzles, one spare piston and a steel ladder hook-pull
2. Smooth Rod Style Caulking Guns for applying Perma-Chink, Energy Seal, Check Mate 2 and Woodsman
Great for professional use where bead consistency, control and clean up save time and money. A simple push of the recoil releases all pressure on the plunger and instantly stops the flow of sealant. To remove the tube, press the lever and pull back on the rod to expose the entire tube and slip it out of the gun.
Available in sizes for 11oz. tubes and 30oz. tubes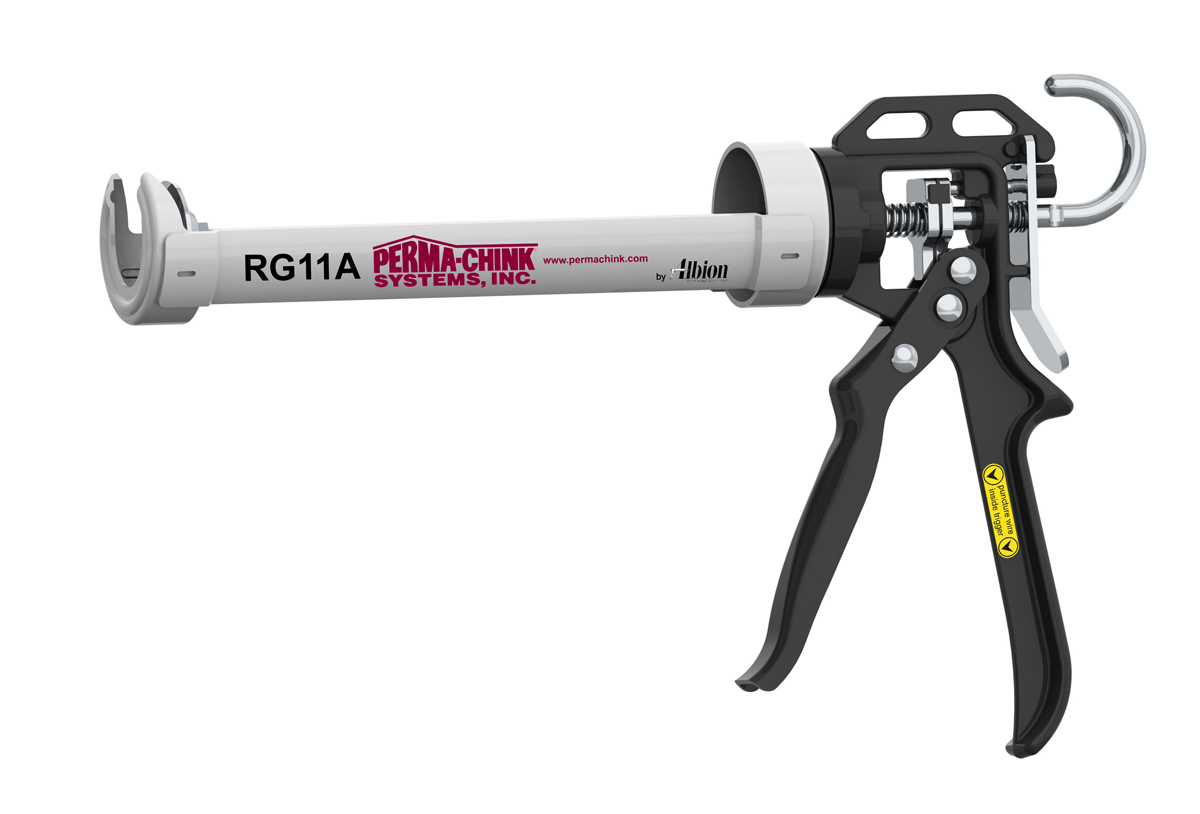 Professional Quality
Smooth Rod for reliable dispensing
Efficient 12:1 Mechanical Advantage Drive
Convenient Thumb-Release for no run-on caulking
Full size handle for comfortable dispensing
3. Cordless Guns with a State-of-the-Art Performance, Portability and Control
How Fast is Fast! A Cordless Gun can dramatically decrease the amount of time on a chinking job.
Available in sizes for 11oz. tubes and 30oz. tubes AND 20oz. bulk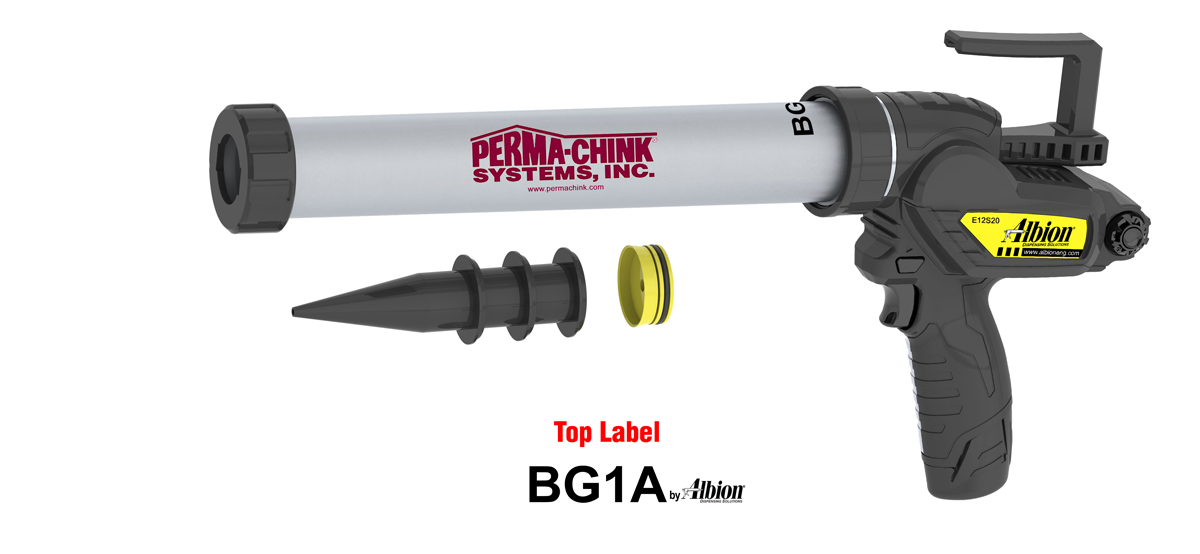 Powerful – 400 lbs. of Dispensing Force
Fast – Dispense 11oz. Cartridge in 16 seconds
Lightweight Aluminum Barrel
Long Lasting – 12 V Lithium-Ion Battery
Control – Variable Speed Trigger with Maximum Speed Dial
Auto Reverse for No-Drip Dispensing
Comfortable rubber over molded handle. Swivel barrel
Fast 30-minute recharge. Battery Fuel Gauge
Ladder pull hook
How Bulk Loading Guns Operate
Simply insert the 2-inch wide cylinder into the pail and fill the gun by pulling back the plunger, which draws the product from the pail into the body of the gun. After wiping the threads clean and screwing on the end cap with plastic cone nozzle, you're ready to apply the product. To make your job easier, quicker and much cleaner with less product waste, the gun-compatible follow plate can be used (highly recommended). This 9.5" round metal plate has a 1" rubber gasket which allows for the tapered shape of the pails.
Basic Instructions on how to Tool Perma-Chink Sealants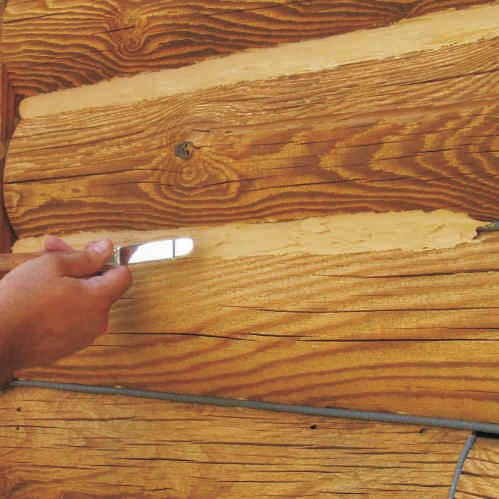 Smoothing your sealant you have just applied from the gun is not nearly as important as making sure you have really good contact to the top and bottom log, with no air trapped under the sealant.
To move the sealant into position for proper adhesion and to smooth out bumps is what we refer to as "tool" or "tooling." The best tool we recommend is a bent trowel that's about the width of the chink joint. The bent trowel makes it much easier to avoid trowel marks in the sealant as it dries and cures. Along with a trowel, you'll want to have a plant mister or squirt bottle filled with plain water. Perma-Chink Systems offers a variety of stainless steel trowels ranging from ¾" to 4-inch wide with both rounded and squared off tips in our Tools & Dry-In section.
Anytime you tool the chinking, spray a little water on it first. You want enough water to allow a smooth motion with the trowel, but not so much it pools and runs all down the logs. The water prevents the chinking from sticking to your trowel and gives a nice, smooth surface free of bumps and edges. Make more smoothing passes after you have created good adhesion to those logs to remove any tooling marks. All of these passes are a very light pressure, with ½" to ¾" of the tip of the knife being used. Depending on the appearance you are looking for, you may leave your sealant line as smooth or as rough as you would like.
Recommended Videos
| | | | |
| --- | --- | --- | --- |
| | | | |
| Chinking Tutorial | Log Home Chinking | Log Cabin Chinking | Follow Plate |
Hope this helps! Check our Tools and Dry-In section on the website to find all the items needed to get you started on your project! And if you need more information, our professional sales representative is standing by at 800-548-3554 or send us an e-mail to This email address is being protected from spambots. You need JavaScript enabled to view it.
Click here to view the Log Home Sealants Application Guide