By Tony Huddleston
VP of Sales and Operations, Perma-Chink Systems
Log home living in today's world can be linked to the same pioneer spirit that helped many of our ancestors forge a new world. The spirit that dwells in so many of us tells us that we want something different from all the rest. Something that enables us to have a different way of expressing our lifestyle that embodies the individuality in some of us that separates us from the masses.

The months or years that are spent researching log home styles, construction methods, visits to dealers and talking with homeowners about their homes are brought to reality when we finally move into a new log home. Hopefully during our quest for the home we wanted that our dealer advised us to plan for maintenance and to design our homes to be "maintenance friendly". After all we, like our homes are not going to be forever young, so planning for maintenance down the road will pay off big dividends in years to come.
Today's log homes are not the same homes our ancestors built, as they were often built strictly as a necessity for their families. There were very few thoughts as to anything other than shelter and protection from the elements as well as other predators. Log homes of today are engineered to be structurally sound and take advantage of energy-saving features, much the same as other homes. They are no longer viewed as "cabins"; they are primary homes and second homes or vacation getaways.

Having said that, all of the engineering, planning, and choices you make should also include planning for scheduled maintenance on your home. Maintenance should not be viewed as a chore or just an expense, it should be considered as an investment in your homes' longevity and value. Properly cared for; log homes will appreciate in value, rather than depreciate. Download the "Inspection Checklist" in PDF here.

If you are new to the lifestyle of log homes, then possibly you may be new to the care and feeding of a log home and may have some questions or reservations as to how this should be done. With a little planning and timely execution it is not as difficult as it may seem.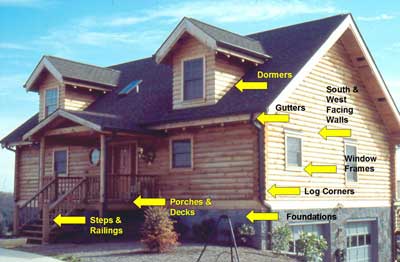 Starting with the basics; a walk around your home at least twice a year will help you become acquainted with your home and the condition of the sealants and finishes. If you do see something, get up close and personal to see what is happening. Pay close attention to the South and West sides of your home as that is normally the areas that catch most of the sun, and the ultraviolet rays that come with sunlight will cause those areas to show the quickest signs of needing maintenance. Many folks are under the impression that you always have to re-stain the entire home; when in fact all you may need is a touch up on the weathered side.

During your walk around, pay attention to the sealing system on your home, especially around doors and windows. As checking and fissure development is a naturally occurring process in large timbers, make note of any checks that face upward to catch water and hold moisture that may cause problems. Take special note of any that run behind door and window trim that may allow moisture to work its way to the interior. Also look for any telltale signs that your stain or finish is beginning to need attention; fading, peeling, or dark areas under the finish are good indicators that mean it is time for a maintenance coat.