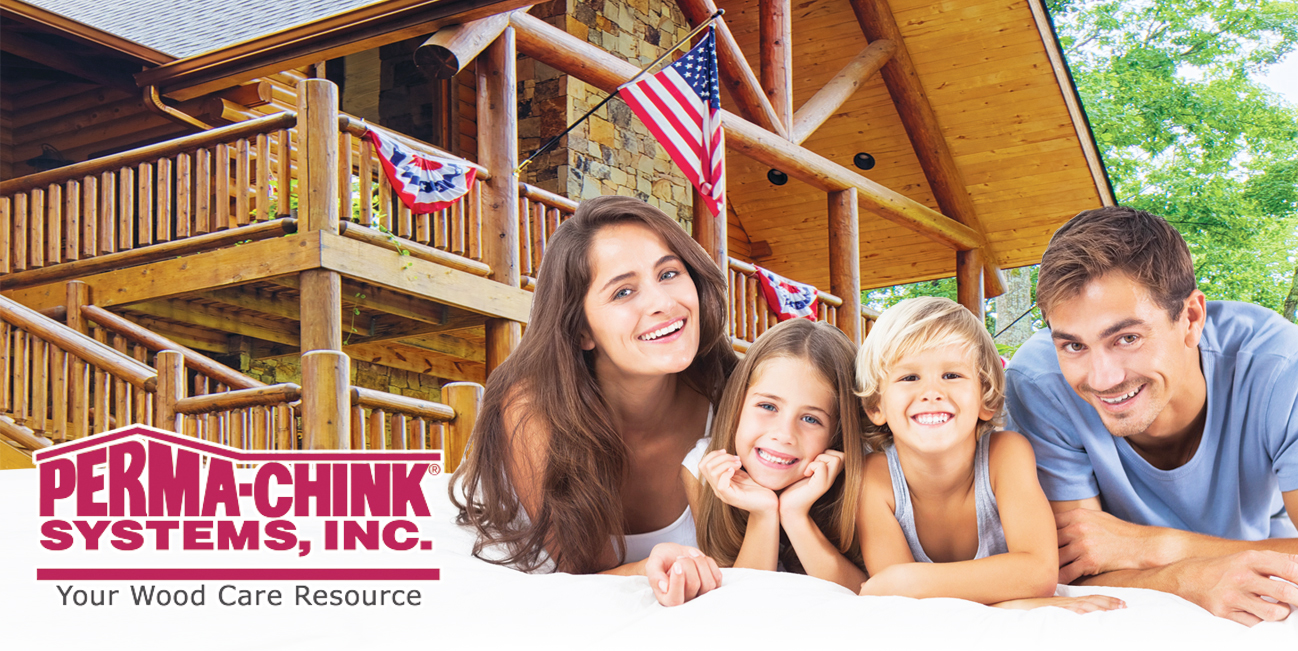 There is no secret in retaining the beauty of your log home. A little care and maintenance along with the use of quality products designed specifically for log homes will keep your home looking great for generations to come.
CARING FOR YOUR DREAM HOME
The proper application of preservatives, stains and finishes is equally important as the prep work to the wood.
NEW LOG HOMES

STEP 1 - SURFACE PREP
Over the years we have discovered that chlorine bleach is not a good product to use for cleaning wood surfaces, it contributes to several problems including the loss of film adhesion, discolorations due to tannin extraction, and the formation of iron tannates, streaks, blotches and premature failures of the finish system. We have also discovered that several wood and deck cleaners available at paint and hardware stores, home improvement centers and Do-It-Yourself outlets contain components that interfere with the proper performance of wood stains and finishes.
With this in mind we have decided that the ONLY cleaning products approved for use with our finishes are those products supplied or recommended by Perma-Chink Systems, Inc.
Resources:
Download Cleaning Guide in pdf
View All Wood Cleaning Products here
---

STEP 2 - PRESERVE
Special purpose preservatives to protect against termites, insects, wood rot, mold and mildew.
Resources:
View All Wood Preservatives Products here
---
STEP 3 - STAIN and FINISH
Finishes to protect and bring the beauty of your exterior and interior walls, decks and floors.
Resources:
Stains and Finishes Application Guide
Staining and Finishing Tech Tips
View All Stain and Finishes Products here
---

STEP 4 - SEAL and CHINK
Flexible sealants for every weather-proofing job around your chinked or chinkless style log home.
Resources:
Sealing and Chinking Tech Tips
View All Sealants and Chinking Products here
---
MAINTENANCE for EXISTING LOG HOMES
Check for weathering patterns that can include:
Fading of the finish.
To test your finish or stain, use a spray bottle to mist the logs with water. If the water beads up and runs off like a freshly waxed care, then it's doing it's job. If logs soak up water, then you'll need another application of finish.
Water staining on exposed log ends.
If you have exposed timbers on the underside of your eaves that extend flush with the overhang or protrude past it, the ends of these logs are susceptible to rot. Treat with Shell-Guard then sand and seal with Log End Seal.
Water staining on exposed walls.
Check flashing around the windows to ensure that all water is being channeled out and down the exterior walls. Water stains of the logs or drafts around the windows or doors indicate that air and water is infiltrating your home. The right sealant is the solution for this problem.
Download Inspection Checklist here
Log and Timber Home Maintenance in Details here
---
Log Homes with an Existing Finish That is Still in Good Condition
If a maintenance coat of Lifeline stain or topcoat is going to be applied over an existing Lifeline finish, wash the coating surface with Log Wash solution no more than seven (7) days prior to staining. Rinse well and allow the wood to dry, then apply a fresh coat of stain or finish.
Still have questions, call us 1-800-548-3554 or chat with us on permachink.com
---
Check for Log Home Contractors Near You

---
ORDER OUR FREE PRODUCT CATALOG