That means that every office and every sales desk is connected with a simple stroke of a keyboard. In addition, our Call Forwarding capability automatically connects an incoming call anywhere in the nation. Yes, at times you may be connected with a Customer Service Representative other than the one you typically talk to, BUT – the CSR that does answer the call has your entire order history on the screen in front of them immediately. That is thanks to our second system, which is an online database.
Each time an order is placed, whether it be from a new Retail Customer, or an existing Applicator, Dealer, or Manufacturer, the order is entered in real time into our Accounting Database. That database is immediately updated with any new Customer data – purchased products, colors, quantities, shipping addresses, etc. That means that any order that customer has ever made is instantly available on the screen, and we can tell them anything the customer has ever ordered (for example: I bought Lifeline Ultra-7 for a project 8 years ago and I forgot the color and now I need some touch up and additional for a garage, and by the way, that was for the Rutherford house in Pigeon Forge, not the Pinkerton house in North Carolina). We can tell you in real time what stain was used, what color, how much was purchased, when it was purchased, and where it was sent to. Every CSR in the company has that information, for every customer, on the screen in front of them as soon as the call is answered. Then, if the customer would like to talk to a particular individual (my 'favorite' salesperson), we can use the same network to send a notification to that CSR to call you back or attach any particular notifications for the order.
Because of the time difference from the East Coast to the West Coast, this system is available from 8:00 AM Eastern Time until 5:00 PM Pacific Time. That means that a call placed at say, 8:00 PM, on the East Coast will be answered by a salesperson in Redmond, WA that has your Customer History and can take the order or answer any question. That also says that you can make a call at 5:00 AM in Washington State and place an order with a CSR in Tennessee. That is a tremendous advantage for a Contractor who needs to place an order before normal business opening times, or after normal business hours. Remember, it doesn't make any difference who answers the phone or where they happen to be – they have your Customer History on the screen in front of them and can take the order, handle shipping, and answer any questions you might have – and make the order at your particular price level.
Distribution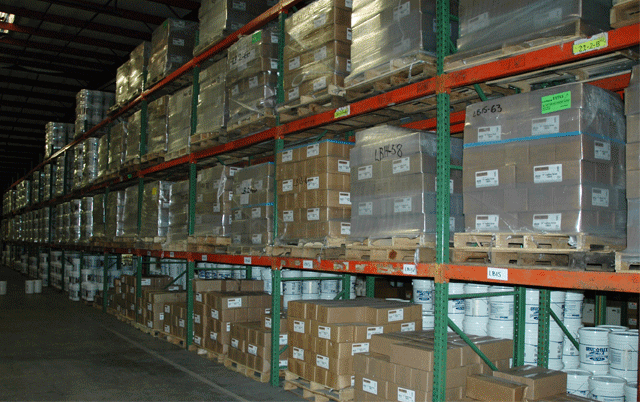 If you can't get the product when you need it, it's all for naught. If you are an Applicator, Manufacturer, or a Homeowner, you all need the product available at a particular time. Products that arrive a day or two late, or a week late, cause havoc with application crew scheduling or weather changes, and can reverberate through the season if early season jobs are late and will negatively impact schedules.
Our Manufacturing Plant is in Knoxville Tennessee, centrally located in the heart of the Log Home Industry. It is also located at the intersection of the major North/South and East/West highways. It's no coincidence our factory is in that location! We of course have massive 'Whole House' inventories (products for an entire home project), but that location also feeds seven fully-stocked Whole House Company-owned Branches. Each one of those Branches is stocked with a Whole House inventory. Not one or two 'Overage or Sample' inventory. Additionally, each Branch location can make any custom stain color you desire and also stocks inventory for a number of Independent Distributors.
The point here is that we are located at strategic locations across the USA and are well-stocked to handle anything from multiple Whole House orders to samples and anything in between. These locations disburse our inventory so that we can fulfill orders from a number of large stocking locations that are close to you, our customers. We are not dependent on large inventory shipments or Whole House shipments arriving from one location. This drastically lowers shipping time and expense.
In addition, each of our seven Branches is staffed with a minimum of three experienced Log Home Specialists. Larger Branches have five and up to eight Inside Customer Care Specialists. No matter when or who you call, be assured you'll be connected with Industry Experts that can help you get the right product at the right time.