What is the Difference?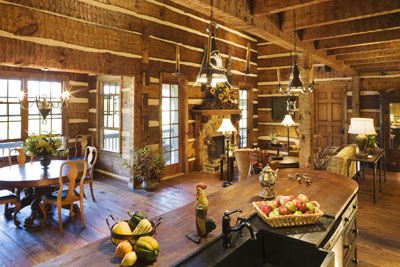 Log Home Interior Using Perma-Chink®
Perma-Chink is our original log home sealant (and the company namesake). It was formulated to look like the concrete mortar that was typically used on full-log construction at that time. It is the original elastic log home sealant. Today Perma-Chink is available in eight different colors, some of which look like concrete, the others are various wood tones.
Energy Seal was formulated at the request of our customers at a much later date. These customers had homes that were usually built with log profiles that did not use chinking, but required weatherproofing some time after they were finished and in use. Because the application surfaces were never intended for a sealant application, they don't have proper geometry that includes a caulking well to allow for sealant and backing material installation. Consequently, we formulated Energy Seal to have higher elongation performance. Energy Seal comes in a wide selection of 12 colors for customers who would prefer to conceal the sealant or even to match the chinking on their log home.
Log Home Interior Using Energy Seal™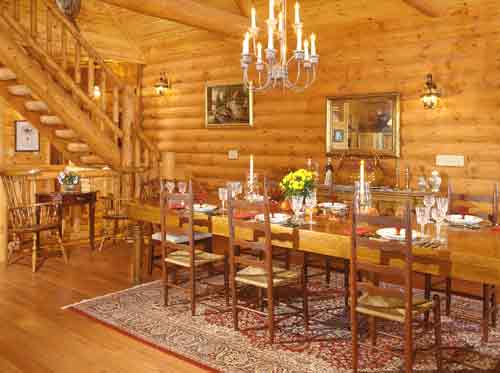 Energy Seal is a Better Choice in the Following Situations:
In general, Energy Seal is a better choice for very demanding, narrow seam application where more stretch is required in a narrow sealant seam. It is also the best choice if you would like the sealant to blend in with the wood surface and not be easily seen. Energy Seal is an excellent choice for use in sealing around doors and windows, butt joints, corners, and junctions between log walls and other surfaces such as beams, rooflines or framed walls.
Perma-Chink is a Better Choice When:
Many log homes are designed, manufactured and constructed with chinking an integral part of the building envelope. Perma-Chink is the clear choice in this situation. Additionally, Perma Chink is ideal to use when sealing up the junction between wood walls and concrete, brick or stone features like fireplaces, stone accents and walls.

Additional Information:
Energy Seal is lightly textured to reduce shine and reflectance and to help it accept stain when you prefer to blend the sealant in with the surrounding woodwork. Perma Chink's heavier texture mimics the look of concrete mortar.
We have additional special purpose sealants. Check Mate 2® is specifically formulated to seal checks in your logs. It has very high elasticity for the dry season when your checks open up and it compresses very well when the environment gets damp and those same checks close back up. It is available in clear and six colors to match your wall color.
For more information call Perma-Chink Systems and consult our Sealants Application Guide to gain your best understanding of how and where to apply any of our sealants to get the highest possible performance out of them.