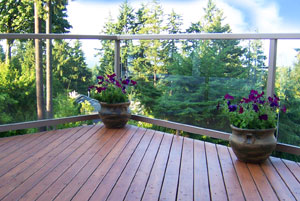 Your decks and railings do not weather in a uniform fashion like your log walls. After a year or two with some deck stains, areas exposed to direct sunlight may hold little or no trace of the original finish, while shaded surfaces may show very little, if any degradation.
Maintaining Your Deck
There are three primary elements to your deck which can maximize longevity and structural integrity as well as aesthetics. These include periodic maintenance between applications of stain, preparation of applying new stain and the staining itself.

Regardless of the stain used on your deck, its life can be extended with periodic cleaning. Pooling water can easily be swept off with a push-broom, which can help prevent premature failure of your deck stain. However, cleaning it periodically will make the biggest contribution to maximizing its life and appearance. A diluted solution of Log Wash™ (1 cup per gallon) can easily be applied through a garden pump sprayer ($20 - $30 at any garden center or hardware store) then lightly pressure washed off. If you don't have access to a pressure washer, a strong jet stream from a garden hose will also work. Remember, here you are trying to clean the deck, not remove the finish.

For decks that may have excessive levels of dirt, mildew, green algae, etc., the mechanical action of scrubbing or using a medium bristle push broom after applying Log Wash will help a lot. Make sure to thoroughly rinse off all detergents as you never want them to dry on the wood surface.
| | |
| --- | --- |
| | |
| Photo 1 | Photo 2 |
For decks that have darkened from sun exposure with little or no stain left, a deeper pressure washing can be done to remove the darkened surface in order to get down to clean, bright wood. Photos 1 and 2 above show these results. If necessary, Wood ReNew™ and a pressure washer may be used to clean away any gray UV damaged wood fibers, as well as deep rooted mold and dirt residue.

Your deck is ready to stain immediately after cleaning. Pick your color and apply 1 coat of Deck Defense. Once the initial coat of Deck Defense applied to bare wood, a future maintenance coat applied to a surface previously coated with Deck Defense is easy - clean and recoat, no mechanical or chemical stripping required.