Deck Makeover Giveaway
A beautiful deck is a thing of beauty and joy. But too often we don't have the time or solutions to make our deck enjoyable. Would you like it to look fresh and well-kept again? Thanks to Perma-Chink Systems stains and finishes, you can make your deck beautiful and enjoyable.
This May, Perma-Chink Systems is bringing you a $1,500 Deck Makeover Giveaway. One winner will be able to select their choice of Deck Defense™ stain color and surface preparation products (wood restoration and wood cleaners). The total prize package is a deck makeover worth $1,500!
Perma-Chink Systems' excellent, performance-based products were launched in 1981 with an unshakeable belief in their promise that its high-quality products perform reliably and exceed your expectations.
Deck Defense is a perfect solution for your wood deck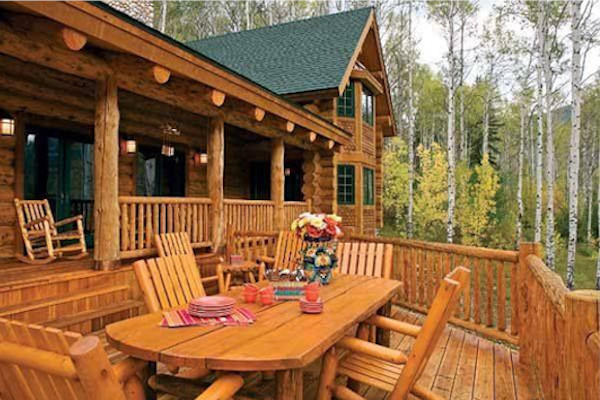 Deck Defense is a waterborne product with penetrating properties like oil, but unlike oil, it hardens into a lattice, supporting and strengthening the natural cellulosic fibers of the wood to protect from the inside out - not just on the surface. Additionally, powerful additives inhibit the growth of mold and mildew on the penetrating lattice. Homeowners can feel secure in the knowledge that their investment is protected from the damaging effects of wind, sun and water.
Deck Defense is easily applied to dry surfaces with a pump up sprayer, roller, brushes, pads or an airless sprayer. Designed for a one coat application, an additional coat may be applied using a "wet on wet" method in order to achieve a deeper, richer color. Wet product should be back-brushed to eliminate splotchy areas and reduce the chances of lap marks and eliminate pooling of product.
Normal maintenance has also been made easier as there will be no need to strip off the product prior to re-application, as it will not flake or peel when properly applied. Just clean the surface to remove any dirt or dried materials, and allow drying before applying your maintenance coat. Clean up with soap and water before the product dries on application equipment.
Giveaway Entry & Rules
Today and every day through 11:59 p.m. EST on May 31, 2020, enter to win $1,500 Deck Makeover from Perma-Chink Systems. The winner will receive a $1,500 gift certificate for use in any Perma-Chink Systems company store, for their choice of Deck Defense, wood restoration products, wood cleaners and wood preservatives.
Enter Perma-Chink Systems $1,500 Deck Makeover Giveaway
"Perma-Chink Systems $1,500 Deck Makeover Giveaway is open only to U.S. residents of the United States. Employees (and their immediate family members and members of same household) of Perma-Chink Systems and Perma-Chink Systems respective affiliates are not eligible to enter. Void in all other geographic locations. No purchase necessary. Void where prohibited. Contest Period runs from 12:00 a.m. (EST) Friday, May 1, 2020, through 11:59 p.m. (EST) Sunday, May 31, 2020. See Official Rules.