Address
1357 Dolly Parton Parkway (old Newport Highway)
Sevierville, TN 37862
(865) 774-3307 Phone
Sevierville Store Hours
Monday - Friday 8:00am to 5:00pm
Our Staff
Eddie McDaniels
I have been with Perma-Chink Systems for 25 years, and I have had the pleasure of working in nearly every aspect of the Company during my time. For my first four years with Perma-Chink I traveled across the country working on log homes. This opportunity taught me a lot, and gave me an appreciation for the unique skill sets and knowledge log home builders and applicators must possess. As our Company grew I had the opportunity to change positions, and I have been the Manager of our Sevierville location since we opened in 2001.
I would love for you to stop in and visit with us when you are in the area! If you need to work on your home and you're not sure how to fix the problem, bring some pictures and we can try to figure out what and how you need to fix the problem.
Contact Eddie direct 1-865-774-3307
Mike Samuels
In 2011 my wife and I built our log cabin in Sevier County. We had dreamed of living near the Smoky Mountains when we retired and it was time to make our retirement dreams come true. Unfortunately, I became very bored with retirement and came to work with Perma-Chink in the summer of 2014.
As a log home owner myself, I know some of the issues that may keep you up at night. I would be glad to help you with any project that you may have questions or concerns about!
Contact Mike direct 1-865-774-3307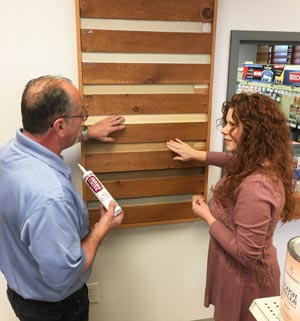 Store History
Sevier County, founded in 1795, is notably comprised of Sevierville, Pigeon Forge and Gatlinburg. For generations, people have been building log homes in this scenic area. Some of the oldest log homes in the local area are located in Gatlinburg and the Great Smoky Mountain National Park.
In the 80's, Pigeon Forge and Gatlinburg started flourishing; people would come here on vacation to enjoy the diverse local entertainment, or enjoy a leisure drive through the Smoky Mountains to experience the picturesque scenery.
In the late 90's, an increasing amount of cabins were being built. Log Home builders and homeowners were in demand of quality products to help preserve the beauty of their log homes. Perma-Chink found it challenging to efficiently service this area, so in April, 2001, we opened a store on Dolly Parton Pkwy. This proved to enhance convenience for local builders, homeowners, and surrounding states. In 2003 Perma-Chink decided to build a store and have more products on hand to meet the local demand. We have proudly been a part of the community for 16 years.

We would like to extend an invitation to come visit us in Sevier County! If you have any questions about your log home or timber frame project we would encourage you to bring pictures with you, we will be happy to assist you! While you're here enjoy the numerous local attractions, breath taking beauty of the Smoky Mountains, and all the other hidden treasures our unique County has to offer!