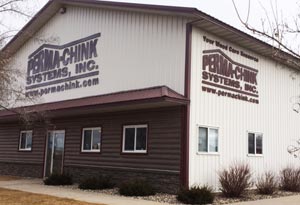 Address
12632 Fromelt Loop NW
Rice, MN 56367
(877) 244-6548
Fax (320) 393-3199
Store Hours
8:00am – 5:00pm Monday – Friday
The Rice, MN Perma-Chink Systems location opened its doors in 2002. It services the Midwest Region to include the states of Minnesota, Wisconsin, Illinois, North Dakota, South Dakota, Iowa, Nebraska and the Upper Peninsula of Michigan.
Our Staff
Willy Kipka
Willy is the store manager for Perma-Chink Systems Midwest region based out of Rice, MN. Willy has been employed with Perma-Chink for 11 years. Helping assist with customers across the country primarily Minnesota and the surrounding states though. Willy is a great asset to the team as he has acquired knowledge in the industry talking with contractors and fellow Perma-Chink employees throughout his years with company.
Willy lives just out of Rice, MN where he has grown up with his companion Attila (dog). Willy loves to spend his free time doing anything outdoors: camping, hiking, shooting, four-wheeling, fishing, etc.
Contact Willy direct 1-425-952-2040
Warehouse
Matt since an early age has tried to pursue art. While still in the stages of turning it from a hobby to a means of financial success he designs tattoos for various clients as well as does portrait work and most all between. Going from various different jobs he landed at Perma-Chink Systems a short time ago. Most previously working as a rotation mold operator but has been nomadic since childhood. With more than 40 moves under his belt, although now finding a solid place to work has lead to putting down some roots in the area. What the future brings is always unclear but hopefully it includes lots of traveling and seeing what the world has, who knows maybe even traveling for the company could be down the line.
Contact Matt direct 1-425-952-2038
Featured Projects
Midwest Surface Restoration
This is a before and after picture of a project done by Midwest Surface Restoration (Dave Thompson). It was blasted, Shell Guard RTU applied, Prelude was applied, one coat Ultra 7 Caramel, Log End Seal, and Advance Gloss. Also, if you look close you can see that he replaced the two beams in from of the garage. On the before picture you can only see one of the temporary beams.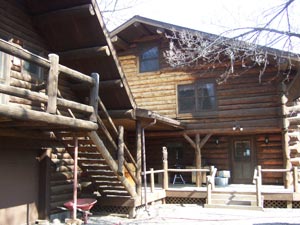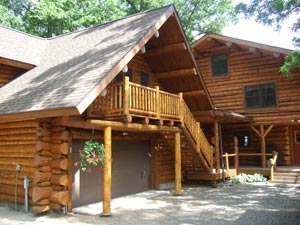 Colorful Concepts Painting & Customer Finishing
This log home was blasted, Log Washed, treated with Shell-Guard RTU. Then a clear code of Prelude primer was applied, Lifeline Ultra 7 Oak (one coat), Log End Seal then Advance Gloss.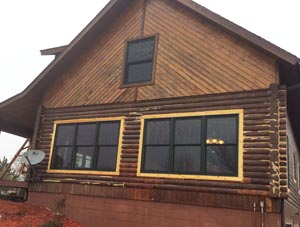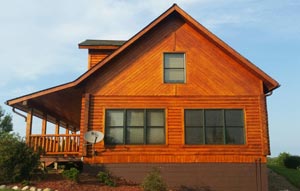 Colorful Concepts Painting
Jon & Lynn Boerger - 320-333-1746
www.colorfulconceptspainting.com